T Low, Tiye P & Sanga Tembo React Over The CBC Television Awards | SEE REACTIONS (⊙⊙)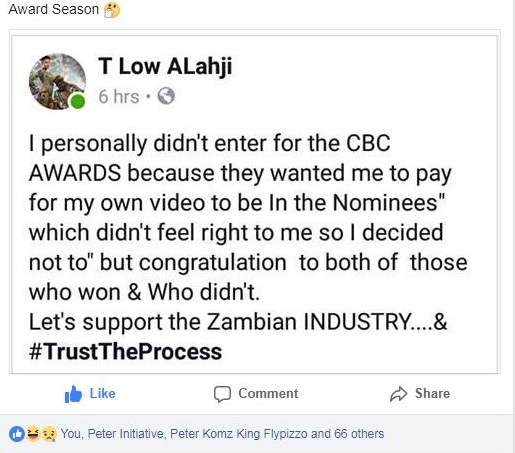 The CBC television viewers choice awards that took place on Saturday, 5th May, 2018. Were unveiling of the winners were unveiled at NIPA Information & Conference center.
The 2nd CBC Television Viewers Choice Awards have been received with different reactions by the above mentioned media personals, reactions that led them to Facebook making it public to music fans/followers.
Innocent Mwila AKA Ocent one of the main organizers in these awards could't bare swallowing the views that were made public on social media by explaining and defending the awards Doctrine of Television Viewers Choice Awards.
SEE REACTIONS (⊙⊙)!


Tags :
CBC AWARDS
Innocent Mwila
Ocent
Sanga Tembo
T-Low
Tiye P