Team Early Don – 'PERCEPTION' EP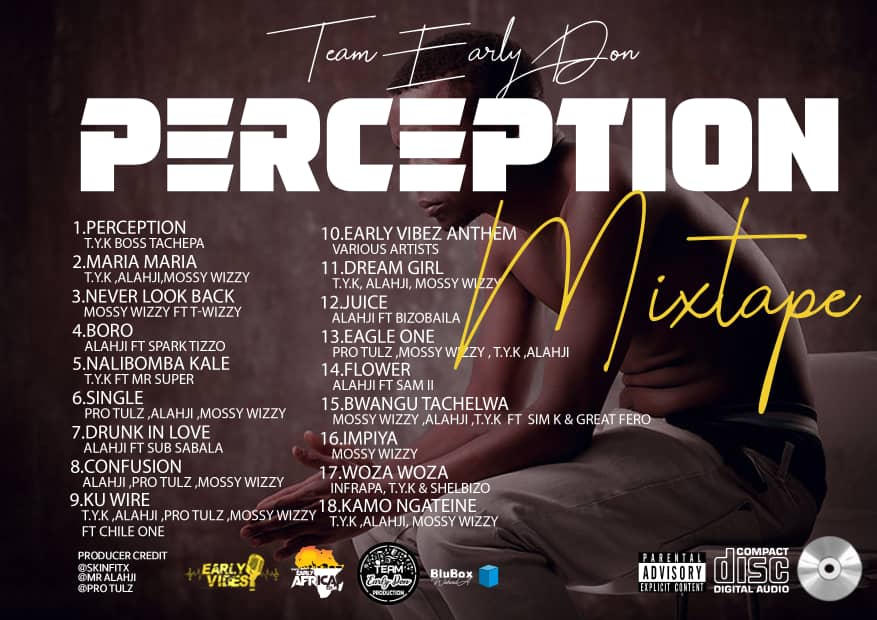 DOWNLOAD Team Early Don - 'PERCEPTION' EP
DOWNLOAD Team Early Don – 'PERCEPTION' EP
Gifted  rappers and singers at Early Vibez, Known as Team Early Don unlock a new EP called 'PERCEPTION'. The Mixtape is generally an Hip Pop, RnB delivered tunes with a legit local flow.
'PERCEPTION' is the ability to see, hear, or become aware of something through the senses.
According to T.E.D's flow the rapper was saying It involves both recognizing environmental stimuli and actions in response to these stimuli.
The brand new Mixtape has 18 Tracks and features Various artists including the member of 408 Empire "Sub Sabala" who finds a spot on Track number 7 with a song titled "Drunk In Love".
Features includes   Pro Tuiz, Alahji , Mossy Wizzy, Chile One, T Wizzy, T.Y.K only to mention a few.
DOWNLOAD, LISTEN & SHARE THE MIXTAPE.
Track 1- DOWNLOAD: 'PERCEPTION' Mp3
Track 2 – DOWNLOAD 'Maria Maria' Mp3
Track 3  – DOWNLOAD "Never Look Back"
Track 4 – DOWNLOAD  – 'Boro' Mp3
Track 5. DOWNLOAD  – 'Nalibomba Kale' Mp3
Track 6. DOWNLOAD  – "Single" Mp3
Track7. DOWNLOAD – 'Drunk In Love" Mp3
Track 8. DOWNLOAD – 'Confusion' Mp3
Track9. DOWNLOAD  – 'Ku Wire' Mp3
Track 10. DOWNLOAD  – 'Early Vibez Anthem' Mp3
11. DOWNLOAD – 'Dream Girl' Mp3
13. DOWNLOAD – 'Eagle One' Mp3
15. DOWNLOAD- 'Bwangu Tachelwa' Mp3
17. DOWNLOAD – 'Woza Woza' Mp3
18. DOWNLOAD – 'Kamo Ngateine' Mp3

Tags :
Team Early Don
Team Early Don - 'PERCEPTION' EP