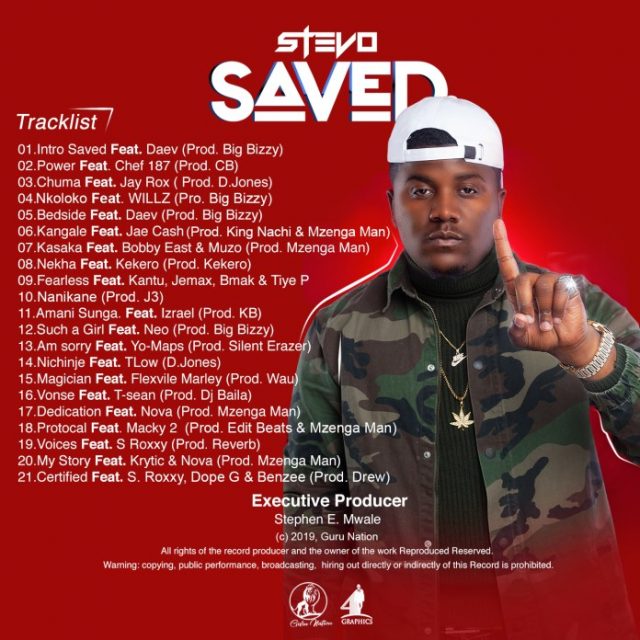 Stevo – "SAVED" [Album Track-List]
Stevo's latest project called "Saved" is one of the anticipated albums fans and folowers are looking out to, Stevo has joined with A List acts on this project namely Daev, Chef 187, Jay Rox, Willz, Bobby East, Jae Cash, Kekero, B-Mak, Izrael, Neo, Yo Maps, T-Low, Flex Ville Marley, Macky 2, S Roxxy,Dope G, K.R.YT.I.C, Nova etc.
The album has 21 tracks on it and the producers behind it are Big Bizzy, CB, D Jonz, Silentt Erazer, Wau, Dj Mzenga Man, Drew and KB and D. Jones to mention a few.
Check the track list.
01. intro Saved Ft. Daev (Prod. By Big Bizzy)
02. Power Ft. Chef 187 (Prod. CB)
03. Chuma Ft. jay Rox (Prod. D. Jones)
04. Nkoloko Ft. Willz (Prod. By Big Bizzy)
05. Bedside Ft. Daev (Prod. By Big Bizzy)
06. Kangale Ft. Jae Cash (Prod. By King & Dj Mzenga Man)
07. Kasaka Ft. Bobby East & Muzo AKA Alphonso (Prod. By Mzenga Man)
08. Nekha Ft. Kekero (Prod. By Kekero)
09. Fearless Ft. Kantu, Jemax, Bmak & Tiye P
10. Nanikane (Prod. J3)
11. Amani Sunga Ft. Izreal (Prod. By KB)
12. Such A Girl Ft. Neo (Pro. By Big Bizzy)
13.Am Sorry Ft. Yo-Maps (Prod. Silent Erazer)
14. Ninchinje Ft. T-Low (Prod. By D. Jones)
15. Magician Ft. Flexvile Marley (Prod. By Wau)
16. Vonse Ft. T -Sean (Prod. Dj Baila)
17. Dedication Ft. Nova (Prod. By Mzenga Man)
18. Protocal Ft. Macky 2 (Prod. By edit Beats & Mzenga Man)
19. Voices Ft. S. roxxy (Prod. By Reverb)
20. My Story Krytic & Nova (Prod. By Mzenga Man)
21. Certified Ft. S Roxxy, Dope G & Benzee (Prod. By Drew)